Planning a Halloween wedding? These beautiful DIY projects are guaranteed to give your guests a day to remember…
1. Please sign our pumpkin guest book
So simple - and so effective. Just pop one or two blackberries (they're in season this time of year) into your champagne flutes for a burst of flavour and chicness.
J'adore.
Bridesmaids and broomsticks
Everyone will fall under the spell of your bewitching bridesmaids if you swap their posies for decorative broomsticks.
Spooky wedding cake toppers galore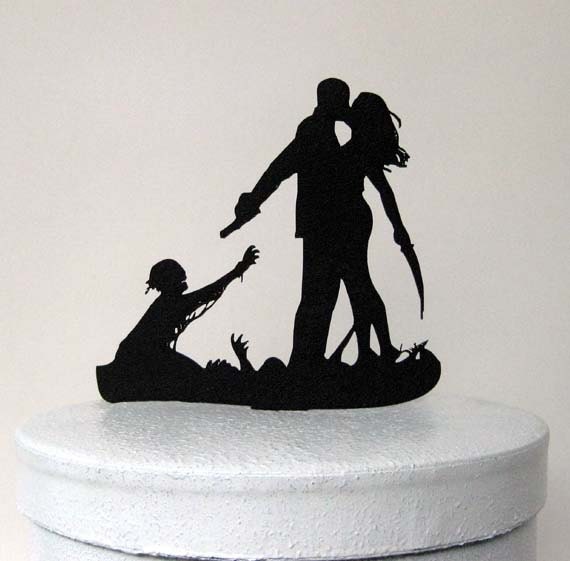 The Wicked Queen doused hers with poison - but you could always skip that part and slather them with caramel instead?
Light it up
Why not light the way with these gorgeous homemade candles? Get the skinny on how to create them .
Enjoy the glow of the flickering candles…
This is too cute. And it could be easily adapted for a Christmas wedding theme, too!
Get trigger-happy
Carve your surname into a series of pumpkins, grab a sparkler and pose for an awesome twilight photo. Love it.
Drink a witch's brew
Spooky AND romantic? We're definitely on board with these homemade love potions; they'd make pretty decorations and, if you fill them with bubbles or liqueur, cute wedding favours, too.
Shower them with sparkles
Forget the confetti; have your guests grab sparklers and create a light-up archway for your dusky autumnal nuptials.
Paint the town… orange?
Totally autumnal, and totally beautiful, theme your wedding around a Halloween colour palette of oranges, reds, and yellows.
It'll add some cheer to a grey autumn day, trust us.
Look to Tim Burton
Why not steal the wedding vows from The Corpse Bride for your big day?
They're romantic and take the union seriously - all whilst keeping a fun creepy touch.
Go back to black
Deep hues of black and orange pulled together with traditional elements of white make for an elegant (and memorable) Hallowedding!
Let them eat cake
Wild flowers, black ribbons and a chic white cake look absolutely stunning - and they give a nod to Dracula's decor, too!
The portraits seem to be moving…
Set up a photo booth area with empty photo frames that your guests can pose behind - it'll look fabulous.
BONUS TIP: Run wild with that theme
Whether you go all out, or just add a few haunting touches to your Halloween wedding, there's plenty of inspiration, DIY tutorials and advice to be found over at the amazing Bespoke Brides.
Which of these Halloween wedding theme ideas do you love the most?
Let us know via Facebook or Twitter (@CloserOnline) now.