We love nothing more than sitting down to a great classic film.
But the classics can be classic for more reason than one - and for us, it's all about the costume design. These are the classic films which go on to inspire not just filmmaking trends, but fashion ones, decades after their initial release.
Let's countdown the most fashionable films in history...
Heathers (1989)
Many style analyses have been applied to '80s teen movie Heathers, and for good reason.
Who better than Heather, Heather, Heather and Veronica to show us the value of wearing matchy-matchy pleated skirts cut just above the knee, blazers with oversized shoulder pads, and teaming block-coloured leggings with socks and ballet flats for a mid-day game of crochet?
Carol (2015)
When you're making a movie like Carol, where the clothes help tell us who the characters are, you need a costume designer who can double as a storyteller. Enter three-time Academy Award winner Sandy Powell OBE.
Carol, set in 1952, was a critical period to dress for. And while we can all fantasize over luxurious red coats, muted coral palettes, big, jewel-encrusted brooches and silky scarves - Rooney Mara's character Therese lends herself to a more ordinary, slightly dowdy day-to-day style, highlighted by plain hairbands, plaid and simple long-sleeved shirts.
The Great Gatsby (1974)
There have been five motion picture incarnations of F Scott Fitzgerald's The Great Gatsby but one thing has remained the same throughout - the dazzling 1920s fashion.
Looks seen in the 1974 Great Gatsby, starring Robert Redford and Mia Farrow, have gone on to be huge modern day womenswear trends. Think: silky underwear-as-outerwear, flapper dresses, low-heeled pumps and over-the-top headwear.
The film's costume designer, Theoni V. Aldredge, won an Academy Award for her take on the rich, exuberant flapper style. However, it's been reported that the menswear in the film (think: sharp tuxes, pocket squares, jumpers resting over the shoulders and perfectly tailored shirts) was actually put together by their designer, Ralph Lauren, something many have furiously denied.
A Single Man (2009)
When highly regarded fashion designer Tom Ford spent an alleged $7 million of his own money to get his directorial debut, A Single Man, made, it wouldn't be a shock if a few eyes rolled.
But the film's expert costume design, moving story and the Academy Award-nominated performance by Colin Firth all came together to make the film brilliant - and the critics agreed.
The combination of a muted, neutrals-focused colour palette, classic, everyday '60s style as inspiration and Tom Ford's penchant for a perfectly tailored suit (complete with pocket square and gold-plated tie clip) and the film naturally becomes one of our picks for most stylish.
Let us also remember the old school styling in flashbacks of Colin Firth's characters, and never forget the fluffy, almost pink knit jumper worn by Nicholas Hoult.
Marie Antoinette (2006)
Sofia Coppola's third full-length film, featured hyper-stylised, intricate, pastel-coloured period costumes, which complemented the luscious, light pink and teal colour themes and cinematography. The film's aesthetic (and it's clothes) even landed an in-character Kirsten Dunst the cover of Vogue.
Coppola's re-imagining of the former Queen of France has gone on to inspire numerous modern day beauty trends and even collections by brands like Wildfox.
Annie Hall (1977)
The Woody Allen-directed feature is largely regarded as a classic, mostly because Diane Keaton gives an incredible performance and cements her status as a cinematic style icon as the film's titular character. It's been reported that much of what makes Annie Hall's menswear-turned-womenswear look is the fact that many of the outfits she wore actually belonged to Diane herself.
Sex & The City (2008)
We would definitely upvote the TV show if that's what this was about – but since we can't include the classic series in a list about films, we'll have to settle for the first Sex & The City big screen outing. Carrie continues to make oversized floral details happen, while Miranda embraces glamour. Charlotte shows that mum style doesn't have to be frumpy, and Samantha is, well, still Samantha. Think more labels, higher heels and huge style statements.
The Devil Wears Prada (2006)
Of course a movie which delves into the hard-working world of fashion journalism is going to bring its A-game when it comes to costume design. Two words: Miranda Priestly.
Clueless (1995)
Clueless has become a cult film for fashion in the same way as Heathers – except Cher and her fellow high school queens can afford some serious high-end names. Perhaps the films two most iconic looks are Cher's matching yellow plaid blazer and skirt combo, and her penchant for knee high socks. But it's also worth taking note of the sartorial transformation of Tai, played by the late Brittany Murphy, as she transforms for normcore new girl to teen queen mean girl.
Dior & I (2014)
This documentary follows the process of Raf Simons and colleagues putting together a collection for Dior. The collections may now be years old, but the couture dresses we see in development and on the runway are utterly timeless – in shape, fabric and colour.
Breathless (1960)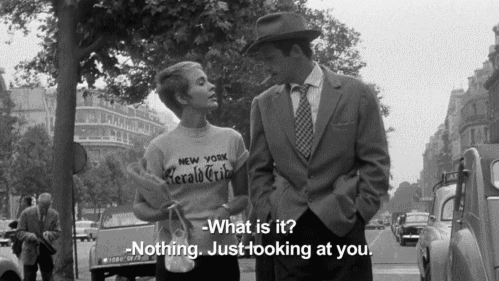 Jean Luc Godard's Breathless is a classic piece of cinema for many reasons. But the film has since become iconic for its leading lady, Jean Seberg, and her character's timeless Parisian style. In a nutshell: striped Breton shirts, cigarette trousers, ballet flats, demure cardigans and knee-length dresses.
Pretty Woman (1990)
Julia Roberts as prostitute Vivian falls for Richard Gere's character, and her client, Edward. The rags-to-riches story is one of the greatest classic romcoms of all time. It's not just notable for its plot, but also for the growth of Vivian's personal wardrobe.
Images via Rex Features/Giphy